Economic forecast Switzerland and World

In cooperation with Oxford Economics, BAK Economics produces economic forecasts for the Swiss economy (on a quarterly basis). The forecasts are characterised by a model-supported foundation that explicitly takes into account international factors of influence as well as by a profound differentiation with regard to macroeconomic parameters.
The forecasts are produced in the user-friendly software from Oxford Economics. This allows to carry out a large number of consistent scenarios and simulations within an econometrically sound model. The macro forecasts form the framework for all other forecast models, such as the sectoral, regional, building construction or consumer and retail trade models of BAK.
The macro forecasts are published regularly. However, it is also possible to obtain the forecasts as individually tailored data deliveries.

Der kostenlose Konjunktur Report wird monatlich aktualisiert und enthält wichtige Wirtschaftsindikatoren inkl. einer Einschätzung unserer Ökonomen zur Konjunkturprognose Schweiz und Welt. Ein ideales Ergänzungstool für Entscheidungsträger in der Wirtschaft. Als Beispiel dient die folgende Darstellung:
---
Regional forecast
The regional forecast is based on the regional model of BAK Economics. The model calculates real and nominal gross value added, the number of employed persons and labour productivity for the cantonal industries. For the cantonal sectors BAK Economics additionally evaluates the volume of work and hourly productivity. In the recent past, our database has undergone extensive refinements. The data are now processed down to the municipal level, which makes it possible to provide forecasts even for small economic regions.
Detailed information on the regional forecast can be found in the publication CH-Plus.
---
Industry forecast
As part of the sector model, BAK Economics generates a forecast for the most important indicators of the Swiss industrial spectrum. The central indicator is the gross value added at basic prices. Additionally, forecasts are also made for value added deflators, work volume, number of employees and wages. Along with the standard analyses for the various branches of industry, BAK regularly conducts in-depth analyses of selected sectors such as retail trade, construction and tourism.
Detailed information on the industry forecast can be found in the publication CH-Plus.
Branchenprognose
Im Rahmen des Branchenmodells erstellt BAK Economics eine Prognose für wichtige Indikatoren des Schweizer Branchenspektrums. Der zentrale Indikator ist die Bruttowertschöpfung. Daneben werden Prognosen für Arbeitsvolumen, Zahl der Erwebstätigen, Löhne und Wertschöpfungsdeflatoren erstellt. Neben den Standardanalysen führt BAK zu ausgewählten Branchen wie dem Detailhandel, Bau oder Tourismus regelmässig vertiefte Analysen durch.
Detaillierte Informationen zur Branchenprognose finden Sie in der Publikation CH-Plus.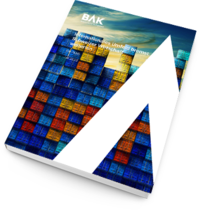 Content of the publication
Quarterly forecasts for the current and next year
Annual forecasts and long-term trends
Risk analysis of central assumptions and alternative scenarios
Forecasts for over 30 Swiss industries
Distinction between real and nominal parameters
Annotated regional forecasts for the current and next year
Detailed texts, tables and graphicsQuarterly forecasts for the current and next year
In addition, BAK provides free cyclical data series for academics in collaboration with the Swiss National Bank on the iconomix economics course. The corresponding time series can be found under the following link.