Green Technologies as a key technology
Green Tech als Schlüsseltechnologien
---

Green Tech
As climate change continues, committed measures to protect the environment are necessary. One example of this is the European "Green Deal", which includes a roadmap of measures to enable more efficient use of resources through the transition to a clean and recycling-based economy. The demand for "green" products, processes and services will thus continue to grow in the coming years. Companies must operate more sustainably in order to remain competitive, as in future products from all sectors will have to be measured by their energy balance. Green tech plays an important role in achieving the climate targets set. Green Tech is thus becoming a key and cross-sectional technology for all industries.
For the regions, therefore, the promotion of innovative strength in the field of Green Tech is playing an increasingly important role. At this point BAK Economics can support the regional location policy with data bases and analyses. Since these are cross-sectional areas of the economy, this data basis cannot simply be extracted from the conventional sector statistics and must be developed by means of additional surveys and estimates.
Previous Green Tech analyses often focus on the survey of workplaces, jobs or employees. BAK Economics has developed a new analysis approach based on patent data, which makes the innovation dynamics in Green Tech Clusters exactly identifiable and (internationally) comparable.
Definition Green Tech
BAK Economics defines Green Tech as all environmentally friendly technologies that increase energy efficiency, reduce resource and energy consumption, reduce pollution and enable a more sustainable economy. This includes all environmentally friendly technologies that are used in areas such as renewable energy, energy storage and smart grids, clean transport, water treatment and recycling. Green Tech thus covers all stages of the value chain from research and development to the production of capital goods and applications. The following figure provides an overview of the individual Green Tech technologies available: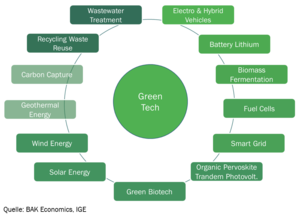 ---
---
---